Booker's Bio is Courtesy of wcw.com.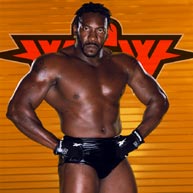 Age: 36
Height: 6-3
Weight: 250 lbs.
WCW Champion Booker T invaded a World Wrestling Federation Pay-Per-View
Sunday night at King of the Ring.
Booker T shocked the crowd at the Continental Airlines Arena
when he appeared during the main event and
attacked Stone Cold Steve Austin.
"It was crazy. It was great," Booker T told WWF.com immediately after
the match. "The fans accepted me. It's something that you kind of worry
about going from one place to another."
The WCW Champion had been idle for more than two months, since the last WCW
Nitro aired. But clearly, he's remained in top shape. He was
also clearly very happy to be back in the spotlight.